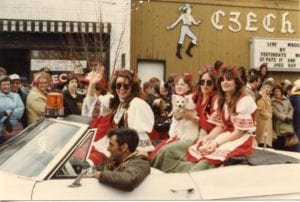 Josef, or Joseph, is one of the most common names in the Czech Republic and was, at one point, the most popular. This was particularly true for the village of Josefovice. For this reason, St. Joseph's Day or the Feast Day of St. Joseph became a popular day of celebration for Czechs. The holiday is more common in Europe than America and Czechs share the holiday with Polish and Italians, particularly Sicilians.
The feast of St. Joseph (Den Svatého Josefa) is celebrated annually on March 19th in honor of St. Joseph, the husband of Mary and stepfather of Jesus. This holiday takes place during Lent, a time of fasting, and the holiday is traditionally a meatless feast in Europe. In contrast to the green of St. Patrick's Day, Czechs wear red, which is the national color.
[su_spacer]
Let's celebrate!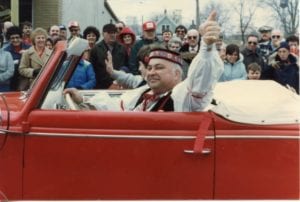 In Cedar Rapids, festivities for St. Joseph's Day occur on the Saturday closest to St. Joseph's Day. There is a parade through the Czech Village/New Bo district.The 2016 St. Joseph's Day Parade will be on Saturday, March 19th beginning at 1 pm.
The businesses in Czech Village and New Bohemia will be celebrating St. Joseph's Day, as well!
Saturday, March 19th:
At 2:30, following the parade, stop by the National Czech & Slovak Museum & Library to hear local author Dave Rasdal discuss his new book Czech Village & New Bohemia. More details and RSVP here
Sykora Bakery will be serving up Sauerkraut and dumplings, in addition to their usual baked treats.
Little Bohemia will be featuring Czech music and serving red beer, kolache, dumplings, and other traditional Czech dishes.
[su_spacer size="10″]
Sunday, March 20th:
The Czech Heritage Foundation is hosting their annual St. Joseph's Day Dance on Sunday, March 20th from 2-6 pm.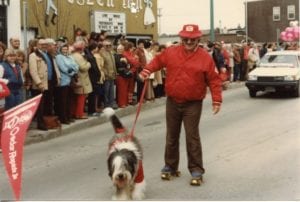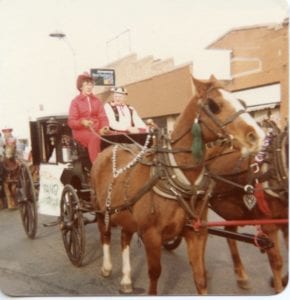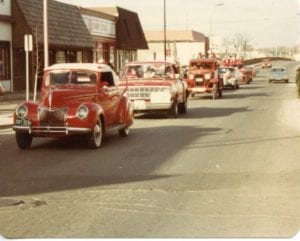 Photos: St. Joseph's Day Parade snapshots from 1981 and 1983
[su_spacer] [su_spoiler title="Sources:" anchor="stjosephssources"]
MyCzechRepublic. (2013). St. Joseph's Day (Den Svatého Josefa), March 19. MyCzechRepublic. Retrieved from http://www.myczechrepublic.com/czech_culture/czech_holidays/saint_joseph.html.
Gunkel, A.H. (2006). Dzien Swietego Jozefa (St. Joseph's Day). Polishtraditions.net. Retrieved from http://annhetzelgunkel.com/easter/swjozef.html.
Crow, N. (2013). Annual St. Joseph's Day Parade Brings Business to Czech Village. The Gazette. Retrieved from: http://www.thegazette.com/2013/03/24/annual-st-josephs-day-parade-brings-business-to-czech-village.
[/su_spoiler]