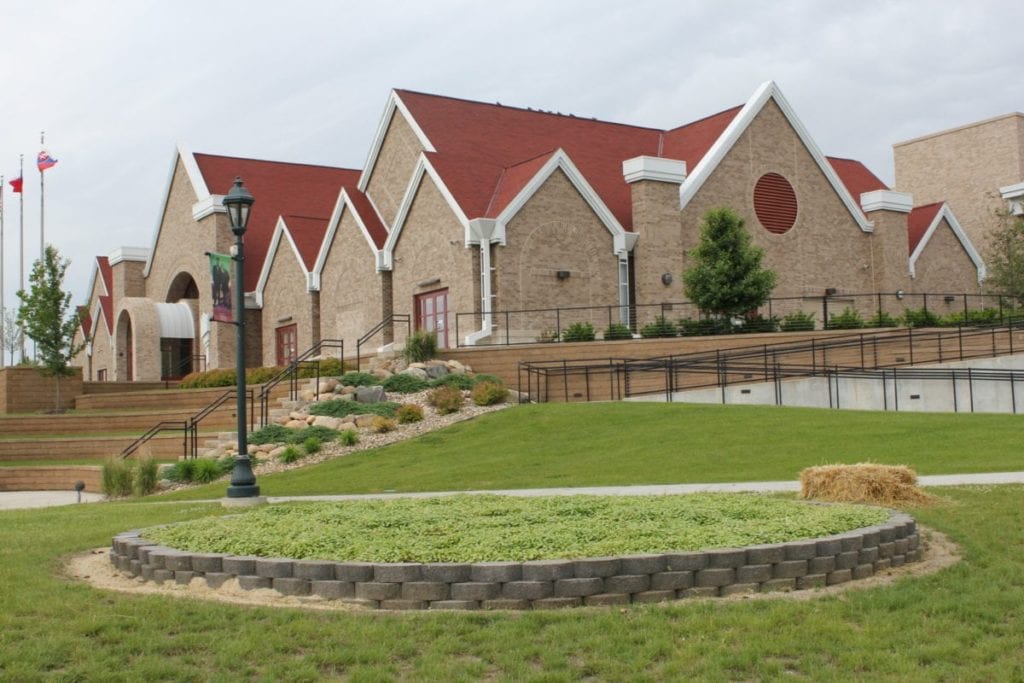 Many of you enjoyed reading about the Czech and Slovak Heritage garden that is now underway on the NCSML campus!
The Czech and Slovak Heritage Garden has many important tales to tell: stories of social history, local food and commerce, and family triumphs. At the NCSML we celebrate these stories and the people who lived them, preserved them, remember them, and share them.
Though the Czech and Slovak Heritage Garden is brand new, these types of stories are not unfamiliar to our museum. Below you will find a story from the Summer 2008 edition of the NCSML biannual publication Slovo that features stories preserving heritage through gardens, plants, food and recipes.
Introduction from Slovo Summer 2008 by Gail Naughton, President/CEO
"Food and culinary traditions are among the strongest and most enduring expressions of heritage. Most of us have fond memories of a grandmother or other legendary family cook preparing favorites that transcend and outlast all dietary or food fads. These special-occasion dishes are cherished and passed down from generation to generation. As other reminders of our history fade, the foods of our ancestors remain authentic expressions of who we are and where we came from, helping maintain vital ties to our heritage. In this issue of Slovo, we explore and celebrate the remarkable food traditions of the Czechs and Slovaks.
Family historian Susan Karlik Cusumano provides another perspective on family food traditions with the moving story of her grandmother Zuzanna, who carried her prized bean seeds on the ship to America in order to provide for her family and perpetuate a gardening tradition that continues to this day with her descendants in America.
As you revisit the Czech and Slovak foods and traditions described in this issue of Slovo, may you delight, as I did, in memories of wonderful cooks and cherished meals. Perhaps you'll even search out an old family cookbook or a restaurant or club that serves your traditional favorites. After all, cooking and eating Czech and Slovak foods is one of the easiest – and most enjoyable – ways to preserve that cherished heritage!" –Gail Naughton
You can help the NCSML make something beautiful out of these cherished stories with a gift to the Summer Fundraising Drive. We hope you're inspired by the story below.
"Zuzanna's Beans: MY GRANDMOTHER'S STORY" from Slovo Summer 2008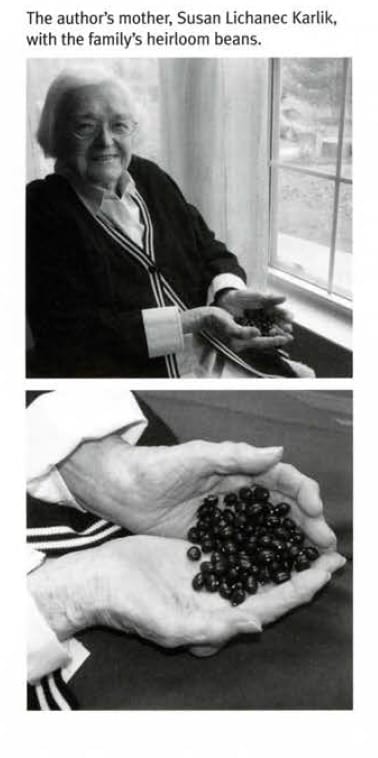 By Susan A. Karlik Cusumano
 Zuzanna Lichanec held six-year old Andy Jr. and four-year old Paul closely to her. The voyage to America had become much more difficult than she had ever imagined. During the two-and-a-half nauseous weeks spent in steerage in 1913 , she had plenty of time to think – that is, as long as she didn't try to sit upright or stand. She thanked God for her angel in the form of a Hungarian woman who willingly helped with Paul, also seasick, and with gregarious Andy who had taken to investigating the ship. Her mind had plenty of time to wander through the contents of her knapsack. She thought about the fine flax tablecloth she had embroidered, the blouse and skirt she had sewn for her wedding to Andrew, clothes for the boys, some books, and the few other belongings that her 4'10" frame could carry Most important were the carefully wrapped cloths filled with beans and seeds that she would use to plant her new garden in America. Visions of that new garden filled her with the calm assurance that all would be well. She remembered the pole beans that towered above her head, providing shade, as she worked in her plot of the community summer garden in her poor village of Klenovec, Slovakia. Soon , she and Andrew would work together to prepare the ground for her new garden in Pine Hollow, Pennsylvania, in the United States of America. Already resilient, she was a stronger woman for the four years spent without Andrew by her side. Besides sewing and ironing for others, she sometimes found work in the village for a wealthy family that gave her leftover bread. As well as working in the community garden, Zuzanna and her father cut grain, threshed it by hand and took it to the mill to be ground into flour for making their own bread. She also found work weeding around tombstones in the local cemetery with Paul strapped to her back and Andy tagging along. But without Andrew's meager income as a woodcutter, she worked hard to keep her boys clothed and fed. She knew Andrew struggled too. His letters to her over their years apart told of time spent in the slope mine where he worked. Because he was so tall (6'1″) he had to kneel while shoveling coal into the rail carts that brought the coal out of the mine. Since this was the highest-paying work available to him, he endured the aching knees and back, knowing that each week brought him closer to reuniting with his family. When he finally saved enough to bring them to America, his last letter provided Zuzanna with all she needed to begin her own journey.
Underlying all was her husband's dream, which she now shared, of buying property of their own. Andrew felt called to be a farmer, a dream that could never come true in Klenovec. Barely making a living woodcutting with his father, he would never have enough money to purchase land. Andrew's brother John had already gone to America years before. John sent letter after letter to Andrew about America and its opportunities and gave Andrew the hope that his dream could come true. Fittingly, upon arrival at Ellis Island, Zuzanna found that her brotherin-law had come to fetch her and the boys to their new home. When they finally arrived in Pine Hollow, she eagerly sought out her husband's handsome face. At last their little family was once again together. During their time in Pine Hollow, the boys grew, the beans grew, their savings grew and their only daughter, Susan, came into the world so tiny that she fit into a shoe box. Several years later Zuzanna and Andrew had saved enough for the next step in the fulfillment of their dream. They piled all of their belongings, the children and provisions into a wagon, hitched up the horse and were on their way for the long trip from Pennsylvania to Connecticut, where Andrew's brother and sister now lived. When they finally arrived in Stafford Springs they found a wonderful community of Slovak people already there, some from Klenovec. At first the family stayed with Andrew's cousin who lived a few miles from his sister, while Andrew began looking for a farm closer to his sister's. Zuzanna, realizing they would soon need more room, encouraged a move to his sister's large farm house near Roaring Brook, just below Village Hill. That's where their third son, John, was born.
During this time, Andrew kept searching for the right farm and found one for sale on Village Hill. Andrew successfully negotiated with two elderly brothers who owned the farm , with its pristine rolling hills and beautiful farmland. The property consisted of a large red barn and an old house with an open garage on 330 acres. This farm became the realization of Andrew and Zuzanna's American dream.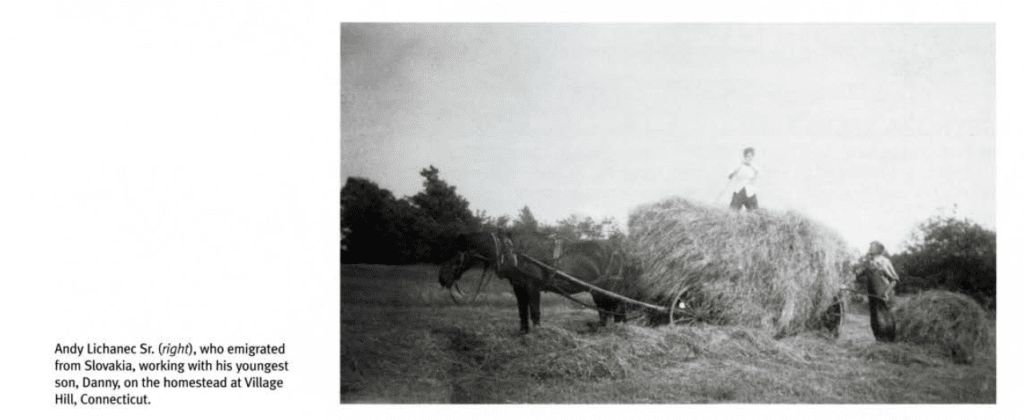 Finally Zuzanna would plant her own family's garden a few steps away from the back of their house on their property After Andrew tilled the earth, she planted the beans that had been so carefully saved from season to season. Several years later, when harvest time arrived in 1925, Zuzanna, once again pregnant, stood in the shade of her pole beans. She admired the tall lush plants and marveled at how God had blessed not only her beans but also her life.
Just a dozen years ago – it seemed like a lifetime now – those very beans had traveled with her as she began her amazing journey.
THE LICHANEC FAMILY BEAN SOUP:
Use stock or cook a ham bone in water. In the stock put potatoes, onions and garlic, as well as the beans, after soaking them overnight.
Then make the zapraska or roux. The recipe for that, from a Slovak cookbook:
Melt 4 Tbsp of bacon fat or butter, add 4 Tbsp of flour;
when bubbly, add 2 cups of milk or cream . Use 1/2 tsp salt and other spices to taste.
Soup will turn pinkish from the beans.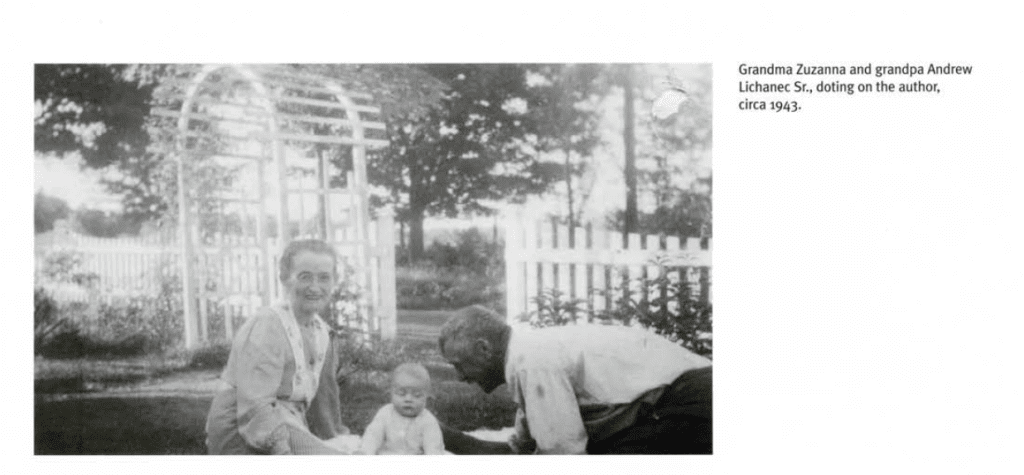 "THE HEIRLOOM SEED MOVEMENT" from Slovo Summer 2008
By: Leah Wilson
More than 86 years ago, Liberty Hyde Bailey, an American horticulturist, was asked, "Why do we need so many kinds of apples?" His answer: "Because there are so many folks ." At that time, there were just under 7,000 varieties of apples in the U.S. Today there are fewer than 1,000. Modern agriculture, in the name of efficiency, has become focused on a much smaller array of food plants, often hybrids – plants that are a genetic cross of two different varieties, but whose offspring don't breed true to type . Hybrids are bred for vigor and uniformity in size, shape, color and ripening time – making them suitable for a global food system where food is shipped an average of 1,500 miles from field to fork. According to the Food and Agriculture Organization, over time, modern hybrid fruits and vegetables have ushered more than 75 percent of our food crop varieties into oblivion .
Unlike hybrids, heirloom crops don't possess the cellular fortitude to withstand thousands of miles in transit or spend days on a supermarket shelf – but they are loaded with personality and taste . These "old" crop varieties have often been nurtured over generations, in a particular region or by a particular culture . Many are passed down through families and all are open-pollinated (which means they reproduce the old-fashioned way) so offspring will breed true .
Recently, there has been an international movement to maintain crop genetic diversity and the rich cultural and historical contexts in which these foods were created. Gene banks and seed saving organizations have become critical in the race to rediscover and propagate these species, but sustaining them as integral components of the food system has become the work of home gardeners, small and medium-scale farmers, and consumers. If you're intrigued by the idea of growing a plant variety that hails from your ancestral land, we recommend contacting Seed Savers Exchange, which sells heirloom seeds of Czech and Slovak heritage. Seeds from the Seed Savers Exchange are being grown in the NCSML Czech and Slovak Heritage Garden today. – Leah Wilson, Vice President
To learn more about how you can give to support this initiative, visit our website NCSML.org/support and give a gift through our Summer Fundraising Drive Indiegogo page. You can make a gift in honor of someone important to you, and many levels are available for dedication including pavers in the NCSML Czech and Slovak Heritage Garden. Thank you to the many supporters who have given to the fundraising drive already this year.